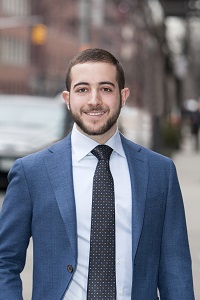 Jesse Schmidt
Licensed Real Estate Associate Broker
M: 845.661.3582
In today's real estate market, it is especially important to work with a professional who makes his clients a top priority and really looks out for their best interests. Educated in finance and psychology from Bryant University along with three years of experience in luxury home sales, Jesse possesses the knowledge, expertise, understanding and personality to guide his clients to success in their real estate transactions. Having grown up in a family entrenched in real estate, interior design and communications, Jesse grew up in this business; he is honest and gives his best service and straightforward guidance.

New York real estate can be a messy environment with many variables, choices and personalities. Your agent should be patient, educated and someone with the ability to teach. Jesse allows his clients to learn and absorb so that they make the right decision on their new home or investment.

He listens carefully to client requirements and his attention to detail, knowledge of finance and experience in luxury home sales makes him invaluable. His sense of urgency allows him to manage every detail of the transaction from the initial meeting through to the closing day.

Jesse also understands the business climate and is well positioned to provide guidance on market trends. Specializing in luxury residential sales, rentals and investment properties in Queens, Manhattan & Brooklyn, he is poised to help you no matter what your real estate needs. As a native New Yorker and a Long Island City resident, Jesse understands the needs of today's buyer or seller and is able to help clients minimize the stress of looking for a home or investment property by taking it one step at a time.
Languages Spoken:
English